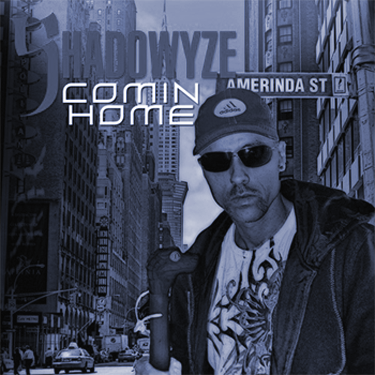 Review: Shadowyze "Comin' Home"
Shadowyze first came to prominence over a decade ago as a lone wolf among the handful of Native Americans rapping at that time. Now that a generation of Indians has grown up with hip hop as a major form of pop music, Shadowyze has become the head man of the movement. His productions have always been dense, multi-layered walls of sound supporting his politically charged lyrics. As he holds a master's degree in anthropology, Shadowyze's words work like stylized footnotes and corrections to history's telling of the Native American experience. This new track is a continuation that tradition.
"Comin' Home" has that heavy Southern bass sound that shows Shadowyze's roots along with beautifully distorted guitar samples, inspired by heavy metal, that cut through the air like well-aimed daggers; it's an old school combination thoroughly updated for the contemporary age. However, regardless of how compelling his music is, ultimately Shadowyze has something on his mind he wants to tell you about, and that's what sets him apart.
Lyrically, Shadowyze uses the braggadocio technique of rap not to promote himself, but to give a sense of the strength and power that is inside the Indian community; the opposing "gang" is the indifferent Federal Government. "Comin' Home" is a tribute to Native artists in New York City, the very land that was infamously "bought" from the Indians for a few trade goods. Shadowyze's rap is like a street gang ready to take back their stolen territory; "…And now we're comin' home, On the block again, Y'ain't never walked a mile in our moccasins… So here's a head load, Say Y'on the Red Road, First Nations' comin' back and we're never lettin' go…" It's a celebration of what is going on today that harkens back to the events from centuries ago, and it's uniquely Native American; no one else would make such a connection.
When the big text book of Native music is written many years from now, there's no doubt that Shadowyze will be a major entry in it, not just for being there at the birth of Native rap, but for having such a literary approach to his political views, which ultimately come out as metaphorical social satires. Like everything by Shadowyze, "Comin' Home" is not just a song you'll crank up in your car; it will also trigger thoughts in your mind long after you've turned off your music player.
Wilhelm Murg is a freelance journalist who started in the punk underground of xeroxed fanzines in the 1980s, helped shape the alternative press scene in the Tulsa area as the editor of Infinity Press and OUTline Magazine in the 1990s, and has written for many Native American magazines and papers. He is an avid record collector and dog lover.