Celebrating Thirty Years of Amerinda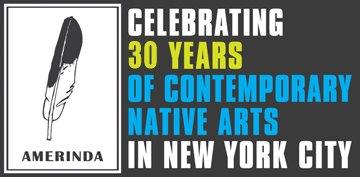 No Reservation

Cover of No Reservation (New York: AMERINDA, 2017)

Diane Fraher, G. Peter Jemison, Athena LaTocha, David Martine, Jaune Quick—to—See Smith
Conversation & Book Launch
Thursday, December 7, 7 p.m.
Artists Space
55 Walker Street
New York, NY 10013
What is today known as New York City stands in the original location of Mannahatta (a Munsee Delaware (Lenni-Lenape) word meaning "rocky or hilly island"). Ecologically diverse, many Native American peoples converged here in vibrant economic and social exchange. A similar spirit today drives the city. While histories of immigration and internationalism have been significant within the city's rich modern and contemporary cultural innovations, Indigenous artists have also importantly contributed to these developments. Native techniques and practices were influential in the formation of abstract expressionism and artists as celebrated as Robert Rauschenberg and Leon Polk Smith had Cherokee heritage. The artist-curator Lloyd Oxendine opened the American Art Gallery, the first contemporary gallery dedicated to Native American art, on the same block as Artists Space in SoHo in 1970, ushering in a period of self—organized experimentation and collaboration that lead to the establishment of institutions such as the American Indian Community House (AICH) gallery and American Indian Artists, Inc. (AMERINDA).
No Reservation (AMERINDA, 2017) marks the first time that a Native American contemporary art movement — here specifically, the New York Contemporary Native American Art Movement — has been defined as such in print. Written by Nednai—Chiricahua Apache/Montauk/Shinnecock artist David Bunn Martine, it describes the dynamism of Native American artmaking in New York City within theater, visual art, and filmmaking, through both overarching theoretical studies and individual artist profiles. To mark the book's launch, AMERINDA director Diane Fraher has convened Martine and three other leading Native American artists: G. Peter Jemison, Jaune Quick—to—See Smith, and Athena LaTocha, for a conversation that frames the rich diversity of Native art practices in New York City and further afield today, touching on the vibrant legacy of Oxendine and Polk Smith and acknowledging the contributions of Native theater to the movement.
Native America History and Culture on Long Island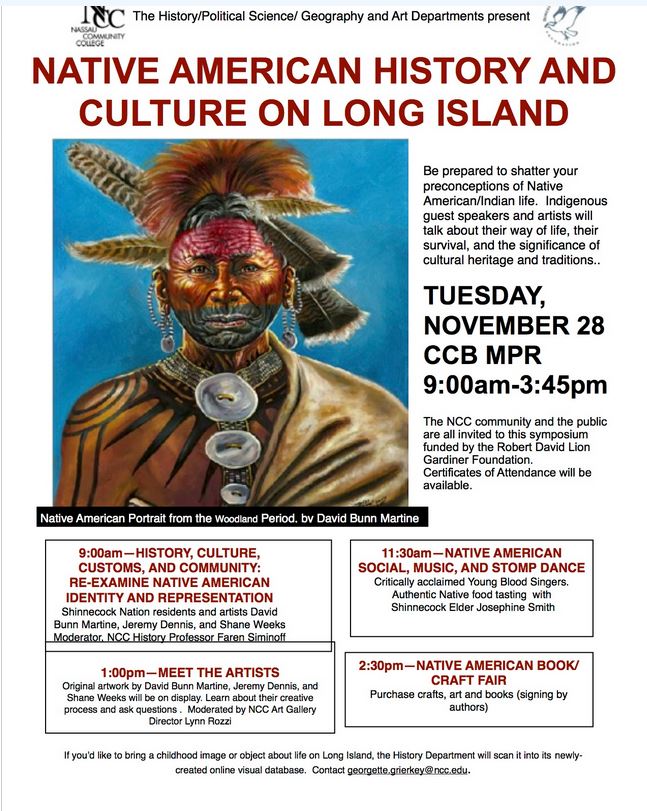 Tuesday, November 28
CCB MPR
9:00am — 3:45pm

Be prepared to shatter your preconceptions of Native American/Indain life. Indigenous guest speakers and artists will talk about their way of life, their survival and the significance of heritage and traditions...
Unholding – Art Show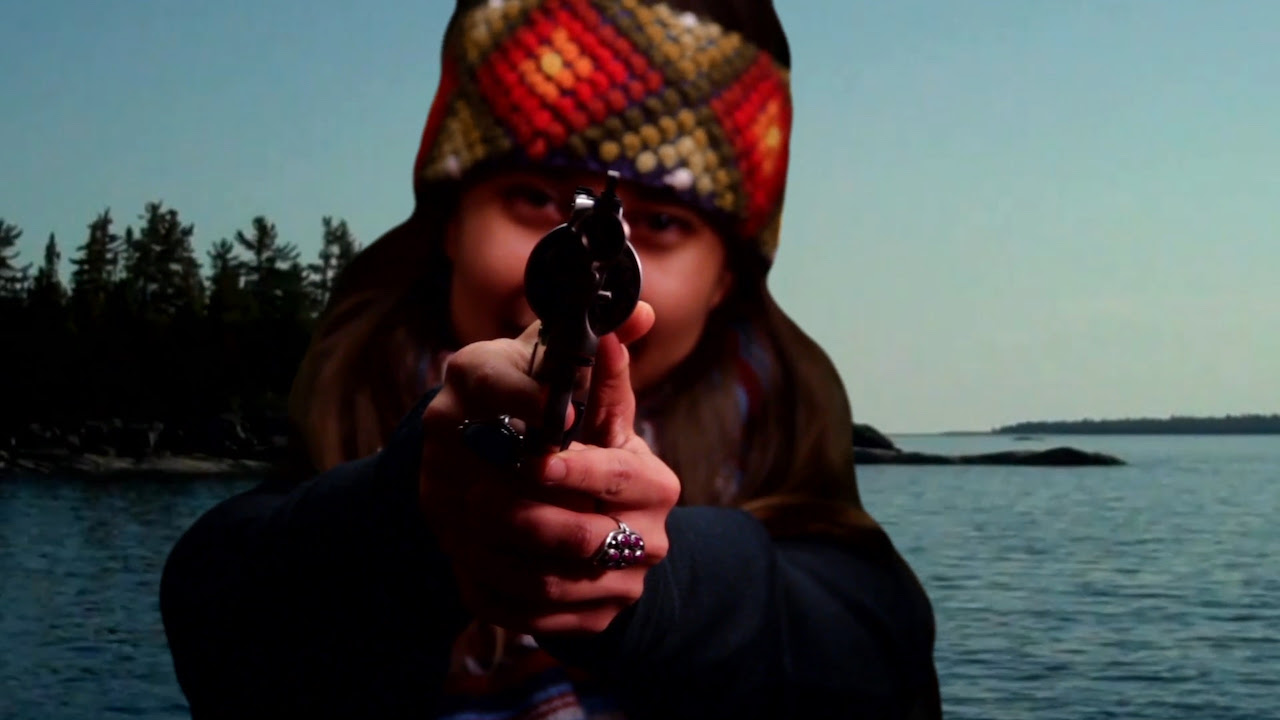 Adam and Zack Khalil, still from INAATE/SE/ [it shines a certain way. to a certain place./it flies. falls./], 2016
Pena Bonita; Demian DineYazhi' with Natalie Diaz, Sonia Guinansaca and Julian Talamantez Brolaski; G. Peter Jemison; Adam and Zack Khalil with Jackson Polys; Alan Michelson; Native Art Department International (Maria Hupfield, Jason Lujan) and Christopher Green; Laura Ortman; Jolene Rickard; Kay WalkingStick; Kathleen Ash-Milby; Diane Fraher, Athena LaTocha, David Martine and Jaune Quick-to-See Smith; Candice Hopkins; Shanna Ketchum-Heap of Birds and Zoya Kocur
November 19, 2017 - January 21, 2018
Opening Saturday, November 18, 6 - 8 p.m.
Wednesday - Sunday: noon - 6 p.m.
Monday and Tuesday closed
Artists Space
55 Walker Street
New York, NY 10013
Artists Space is accessible via elevator from street level, welcomes assistance dogs, and has wheelchair accessible non-gender-segregated toilet facilities. For access inquiries please contact Artists Space at info@artistsspace.org or 212 226 3970.
Unholding Exhibition Supporters: The Friends of Artists Space, The Artists Space Program Fund, Lambent Foundation Fund of Tides Foundation, New York City Department of Cultural Affairs in partnership with the City Council, New York State Council on the Arts with the support of Governor Andrew M. Cuomo and the New York State Legislature
Artists of Indigenous heritage have, for many decades in New York City, developed their practices in self-initiated contexts while endeavoring to extend the reach and visibility of their work to broader publics. Even as progressive art discourse celebrated an emergent multicultural outlook in the late 1980s, narratives around Native American art, culture, and experience remained simplified. Inspired by curator and artist Lloyd Oxendine's American Art Gallery, founded in SoHo in the early 1970s, institutions such as the American Indian Community House (AICH) and American Indian Artists Inc. (AMERINDA) opened urban spaces for Indigenous representation which thrived outside of conventional value systems. Cultural and operational experimentation abounded and the roles of artist, curator, historian and activist were regularly blurred: G. Peter Jemison, whose early paintings were exhibited by Oxendine, served as the first gallery director of the AICH, while Jolene Rickard, whose photographs complicate separations between Native and American iconographies, is an acclaimed curator and a leading scholar in Indigenous visual history.
Two exhibitions organized by Jean Fisher and Jimmie Durham in the 1980s notably brought this work into dialogue with institutional and academic contexts: Ni'Go Tlunh A Doh Ka (We Are Always Turning Around on Purpose) at SUNY Old Westbury's Amelie A. Wallace Gallery in 1986, and We the People at Artists Space in 1987. These exhibitions presented a generation of artists to a wide audience and scrutinized the hegemonic white American gaze by addressing questions of inclusion, framing, containment, and viewership. Artworks such as Pena Bonita's photo-collage series of a car stalled on a reservation road pierced the buoyant postmodern image with a wry political realism. Kay WalkingStick initiated the powerful double visions of her diptychs to complicate how iconography and materiality commingle in landscape painting. Curator and writer Candice Hopkins has noted that, "foregrounding Native artists' voices rescued their aesthetic legacy from the clutches of modernism, rife as it was with misinterpretation, unequal power relations, and exoticism, and firmly positioned them within the contemporary." So too, these artists questioned some of the implicit settler colonial assumptions in the contemporary, from linear temporality to the naturalization of economic growth, and carved critical spaces of aesthetic sovereignty.
Constructing ties between this history and the present, recently produced works such as poet Layli Long Soldier's WHEREAS (Graywolf Press, 2017) and Adam and Zack Khalil's INAATE/SE/ [it shines a certain way. to a certain place./it ies. falls./] (2016) offer profound reckonings with cultural mythology and treaty while deeply experimenting with artistic form. For younger artists such as these, a sense of dexterous porosity and shapeshifting often propels their work, and many are active outside the traditional mediums of visual art, working in film, sound, performance, and text. Self-organization may take the form of applied corporate entities (Native Art Department International), vehement collaboration (Laura Ortman), and close engagement with one's own artistic networks (Demian DineYazhi' and others). In each case, the Indigenous voice is more than foregrounded, but defines the context and conditions of its presence.
Unholding will be accompanied by a print publication that includes commissioned texts by Candice Hopkins and Christopher Green, alongside a reprint of an essay by Jean Fisher. Judith Barry and Ken Saylor will contribute a graphic and a web-based project that revisits their collaboration with Jean Fisher on the design for the exhibition We the People.
Artists Space acknowledges the rich tapestry of Indigenous activity occurring in New York City.
Amerinda in Art In America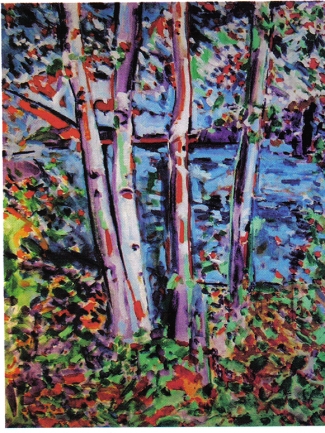 Lloyd Oxendine: Lodgepole Pines, 1988, acrylic on canvas, 54 by 66 inches. Photo Troy Paul (Maliseet). Courtesy of Amerinda Inc.
Remembering Lloyd Oxendine by Diane Fraher, David Bunn Martine
On October 12, Artists Space hosted a launch event for A.i.A.'s October issue on contemporary Indigenous art, with a screening curated by Maria Hupfield and Jason Lujan of Native Art Department International, followed by a discussion of the works with the curators and art historian Jessica L. Horton. The panel was followed by remembrances of Lloyd Oxendine (1942-2015), an artist and curator who was instrumental in the publication of A.i.A.'s 1972 Native American issue. Remarks were shared by Diane Fraher (Osage/Cherokee) and David Bunn Martine (Nednai-Chiricahua Apache-Shinnecock/Montauk), respectively the founding director and chairman of Amerinda Inc., an organization that works to promote Native American artists and foster opportunities for intercultural exchange. After posting Oxendine's 1972 article "23 Contemporary Indian Artists," we are sharing Fraher and Martine's comments to honor his legacy and contribution to A.i.A. -Eds.
READ THE FULL ARTICLE AT ART IN AMERICA »
Amerinda Article in City Limits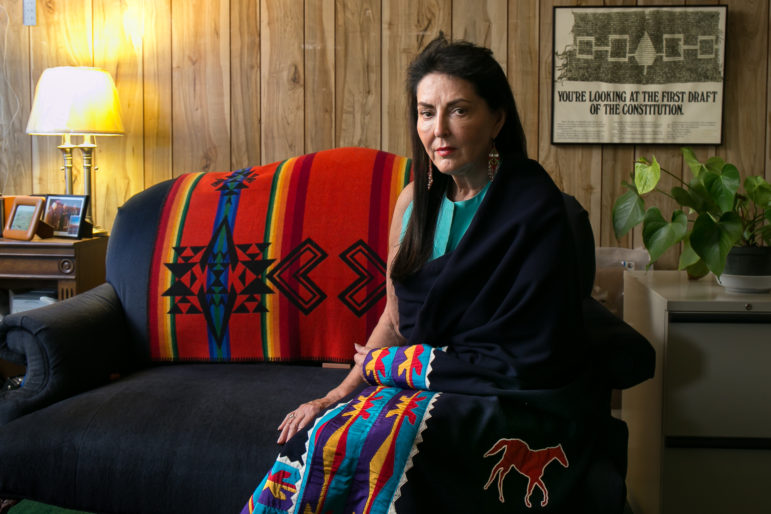 Diane Fraher (Osage/Cherokee) filmmaker, founder and director of American Indian Artists Inc. (AMERINDA) on a recent October afternoon at her office in the East Village section of Manhattan.
PHOTO: Adi Talwar
NYC's Native Groups Weigh in on the Columbus Controversy
By Sharline Dominguez | October 9, 2017
After clashes between white nationalists and counter protestors over the Robert E. Lee statue erupted in Charlottesville, Va., other cities across the country began to evaluate their divisive public statues. In New York City, Mayor De Blasio vowed to create a commission that would review all "symbols of hate" and make recommendations for the complete removal or modification of a select few.
Missing from the current debate around city art, monuments and markers, however, is testimony from Native groups of people (those with origins in any of the original peoples of North and South America, including Central America and the Caribbean), who have been affected in real ways by the oppressive acts of the men shaped into bronze and stone.
There are important distinctions between those who are descended from the original peoples of different parts of the world-Columbus, for instance, committed atrocities against the Native people of Hispaniola, not the mainland North American tribes who suffered badly in later encounters with White explorers and settlers. Yet the struggle to attain full sovereignty, equality and basic human rights is shared by all Native peoples.
The founder of American Indian Artists Inc. (AMERINDA), the only multi-disciplinary arts organization of its kind in the United States that supports tribally-enrolled artists and members of sovereign Nations since 1987, Diane Fraher (Osage/Cherokee), weighs in on the statue controversy from a different angle...
READ FULL ARTICLE AT CITY LIMITS »
No Reservation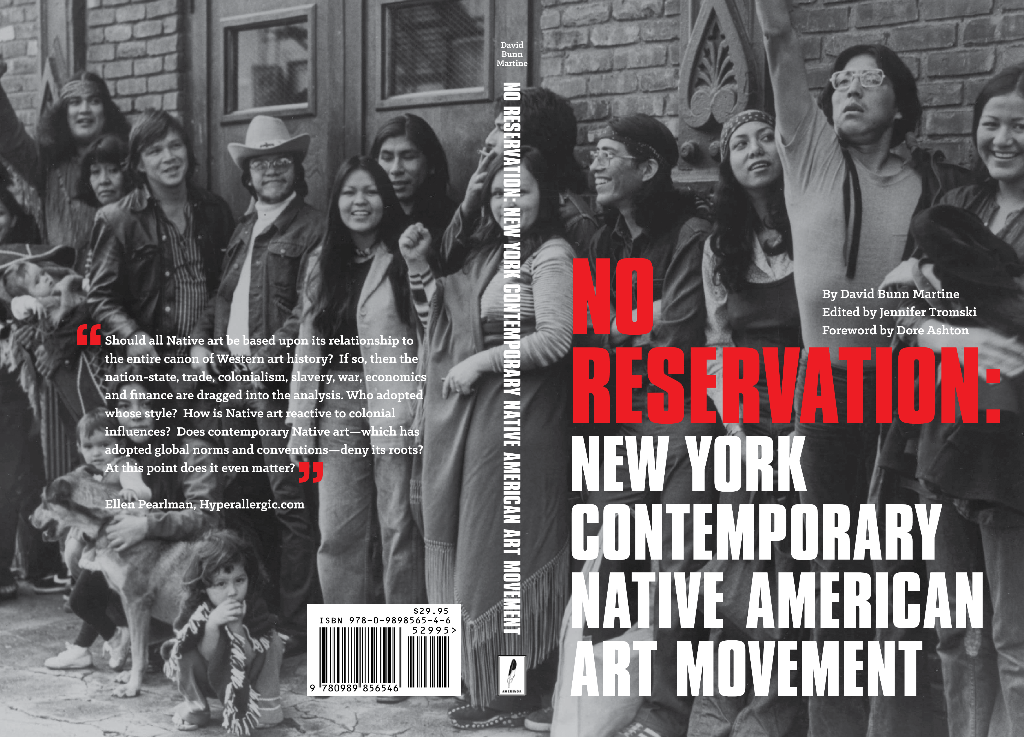 Members of the original company of the Native American Theatre Ensemble in front of La MaMa, New York City, October 1972 Photographer Amnon Ben Nomis (1972) Courtesy The La MaMa Archives/ Ellen Stewart Private Collection.
Amerinda's newest publication, "No Reservation: New York Contemporary Native American Art Movement" is now printed and ready to be mailed to you!
To purchase your copy of the book:
Make a $27.00 donation for each copy to Amerinda, Inc.
$20.00 for the publication, $7.00 for Shipping and Handling

Through our Paypal Donation Portal

OR

By sending a check to:
AMERINDA, INC.
288 EAST 10TH STREET
NEW YORK, NY 10009-4812

Fill out our Contact Form
Once we have recieved both payment and your contact information via the contact form, a representative from Amerinda will ship your copy of the book.
The Heart Stays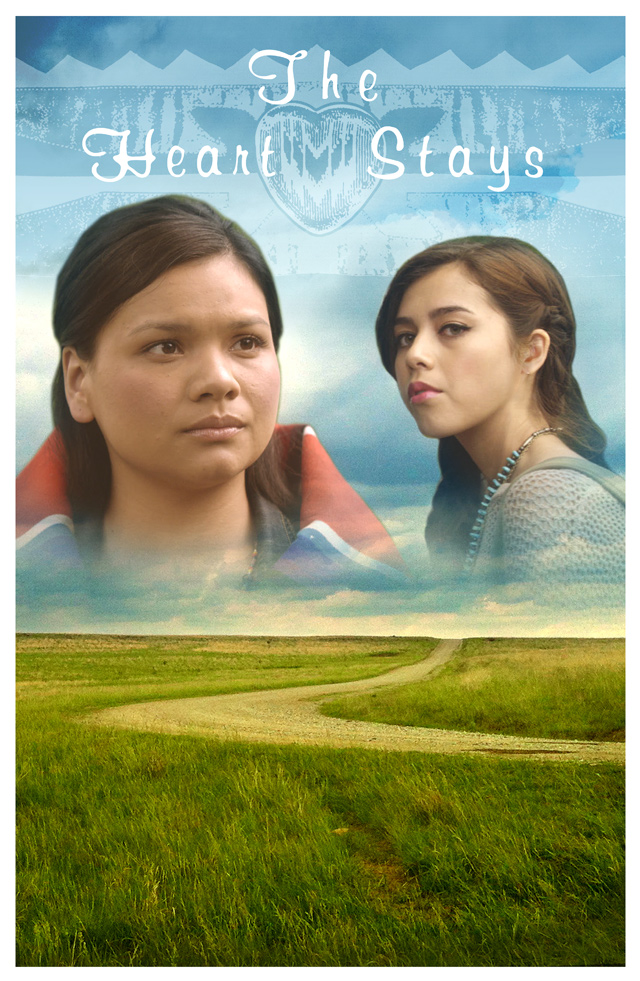 Poster design: SUNDAYREBEL
The Heart Stays, a new feature film by AMERINDA writer and director Diane Fraher, just finished principal location photography on the Osage Nation in May, 2014 and needs your support. Her first feature-length narrative film, The Reawakening, was the first feature film written and directed by a Native woman and wholly produced by Native people. The Heart Stays is a coming of age story, about a Native American girl who must choose between personal achievement and the traditional responsibilities of the old ways. Learn more about the cast, crew and who is supporting the film, and how you can join them.
Comin' Home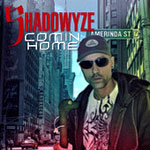 Native American rapper SHADOWYZE wrote, performed and produced this smokin' track exclusively for AMERINDA celebrating 27 years of serving Native American artists. Help support AMERINDA by purchasing this song from CDbaby.
Website Design: Patrick Tafoya (Diné)
Opening Flash Music: Comin Home by Shadowyze




This website is made possible with funds from the New York State Council on the Arts, with the support of Governor Andrew Cuomo and the New York State Legislature; and supported, in part by public funds from the New York City Department of Cultural Affairs in partnership with the City Council.